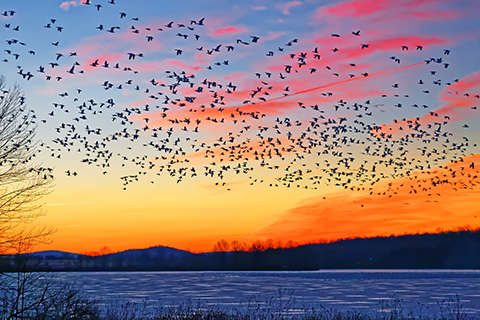 On October 4, 2021, the U.S. Fish and Wildlife Service revoked a rule issued in the waning days of the Trump administration that had limited the scope of the Migratory Bird Treaty Act's (MBTA) enforcement provisions.[1]  The prior rule, issued in January 2021, limited the MBTA's definition of prohibited "take" of covered birds to only "intentional" takes.[2]  The October 2021 rule reinstated prior administrations' interpretations of the MBTA prohibiting both intentional and unintentional (i.e., incidental) takes of migratory birds.  Under the new rule, the MBTA prohibits taking or killing a migratory bird, regardless of whether the actor intended to take or kill a migratory bird.
The MBTA makes it a crime to pursue, hunt, take, capture, or kill any migratory bird or any migratory bird nest or egg.  16 U.S.C. § 703(a).  For years, federal courts disagreed on whether the MBTA prohibited only "intentional" acts meant to harm a migratory bird, or whether it prohibited both intentional and unintentional (i.e., "incidental") acts.  See United States v. CITGO Petroleum Corp., 801 F.3d 477, 488-89 (5th Cir. 2015) (ruling that MBTA prohibits only "deliberate acts done directly and intentionally to migratory birds"); United States v. FMC Corp., 572 F.2d 902, 906-07 (2d Cir. 1978) (specific intent to take a migratory bird is not required); United States v. Apollo Energies, Inc., 611 F.3d 679, 690 (10th Cir. 2010) (specific intent not required but defendant's actions must have proximately caused the take).
Potential incidental take permit system.  Along with the October 2021 rule, the Service announced plans to develop another rule that may include a regulatory framework for authorizing incidental take of migratory birds in certain defined circumstances.[3]  The Service requested public input as to the scope and structure of a potential regulatory scheme and proposed three options: (1) an exemption of certain types of actions from the ban on incidental take; (2) a "general" permit that would authorize on a "blanket" basis certain types of activities and would require entities to register under the general permit and agree to abide by the permit's conditions; and (3) a "specific" permit that would insulate individual citizens or entities from MBTA liability engaged in certain activities.  The Service will accept public comments on its proposal until December 3, 2021.
Enforcement priorities.  Until the Service takes further action, any incidental take is prohibited under the existing regulations and the Agency's guidance.  Along with the October 2021 rule, however, the Service issued a Director's Order acknowledging that "a wide range of activities may result in incidental take of migratory birds" and that pursuing all potential violations "would not be an effective or judicious use of our law enforcement resources."[4]   Accordingly, the Service announced that it would focus enforcement efforts on incidental takes that are foreseeable or the result of otherwise illegal activity.  Until further notice, the Service will not prioritize enforcement of incidental takes that resulted from otherwise legal activity or where the entity conducts activities in accord with prescribed practices designed to avoid and minimize incidental take.
Requirements in flux.  The scope of the MBTA's ban on incidental take and the Service's priorities in enforcing the MBTA are rapidly evolving.  We expect additional action in the coming months providing clearer guidance regarding the ban on incidental take and, potentially, a regulatory scheme providing certainty about precisely which activities may result in enforcement of the MBTA's strict penalties.
John Bernetich is an attorney with Williams Weese Pepple & Ferguson's Environmental, Energy and Natural Resources, Federal Lands, and Litigation groups.  If you have questions about the MBTA's shifting landscape, please contact John or other members of the firm's Environmental group: Zeke Williams, Carlos Romo, Jennifer Biever, Clay Taylor and Dale Ratliff.
[1] 86 Fed. Reg. 54,642. The rule is available here.
[2] 86 Fed. Reg. 1134, 1137.
[3] 86 Fed. Reg. 54,667.
[4] U.S. Department of the Interior, Fish and Wildlife Service, Director's Order No. 225. The Order is available here.